Last year I vowed to join and complete the IntSweMoDo challenge… that is, to knit or crochet 12 adult jumpers/sweaters/cardigans in 12 months to a wearable state… aka; The International Sweater a Month DoDecathalon.
Happily, I can say that, despite a rather horrid 6 weeks of inactivity due to pregnancy-induced RSI, I completed the challenge and now have a lovely wooly wardrobe full of hand-stitched delights that I look forward to wearing once my bump has dissipated later this year!
I thought I would bring all my stitchy work together in one place to bask in my knitty brilliance!! So… here goes…
Sweater Number 1: Harris Gaia by Kristen TenDyke
3 skeins of Harris Tweed yarn gifted to me by a lovely friend = no cost
Sweater Number 2: The Jan Sweater by Susan Crawford
7 balls of Rowan Wool Cotton = £34.50
Sweater 3: Pineapple Cotton Jumper for Mum
6 balls of King Cole Bamboo Cotton = Mum purchased so no cost to me… but cost £34
Sweater 4: Kingfisher Buttercup
9 balls of Stylecraft Merino Wool = £3.50 x 9 = £31.50
Sweater 5: Holl
13 skeins of Jamieson & Sons Aran = £27.50
Sweater 6: FairIsle Yoke
5 skeins of Jamieson & Smith 2ply Jumper weight (@£2.75) and 4 skeins of Supreme Jumper Weight (@ £8.26) = £46.79
Sweater 7: Peggy Sue
One cone of charity shop wool yarn @ £2
Sweater 8: Tea with Jam & Bread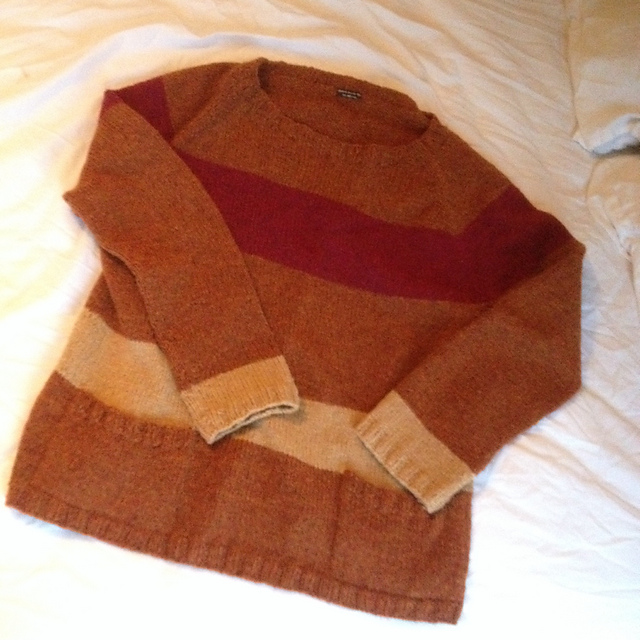 11 skeins of Jamieson's Shetland Heather Aran = £48.40
Sweater 9: Owls
7 balls of Artesano British Wool = £29.50
Sweater 10: Simple Lace Shrug
3 balls of Filitaly Lab-Sirio = £15.00
Sweater 11: Safire
6 balls of Stitch Nation by Debbie Stoller @ free from yarn swap
Sweater 12: Maui Shrug (with attendant bump in the bottom left of the shot!)
4 skeins of Rowan Alpaca Soft and one ball of Austermann Palia @ £3.99 + £4.99= £8.98
The Statistics:
Total Cost: £278.27, (but £244.27 to me) which averages out at £20 per sweater…
Yardage: 11,000 yards of yarn knitted or crocheted (6.25 miles or 10km of yarn)
Hours: Oh hundreds…
Pleasure: Immeasurable…
Smug-factor: High
Something tells me that were I to attempt this another time I may just have to get rather better at photographing my knitwear as well as making it. This seems to be a roundup of rather fuzzy phone pictures with little visible attempt at styling… Though I promise I TRIED!!